Frank Woon-A-Tai,

9

th Dan,
was born in Guyana in 1950, and began training in 1964. He holds a B.A degree in Japanese Studies from the Universit
y of Toronto. In January 2011, he resigned from the ISKF as Chairman and Technical Director of ISKF Canada, and co-vice Chairman of the ISKF Technical Committee to establish the International Karate Daigaku (IKD).
Master Woon-A-Tai is Kancho (Founder) and Shuseki Shihan (Chief Master) of the IKD. Throughout his distinguished career, he served as first president of the Caribbean Karate College and as chief instructor of Jamaica from 1976 to 1980. He is founder and chief instructor of JKA/ISKF Guyana, and the Guyana Karate College. He founded the Toronto JKA in 1981, and is presently Chairman and Chief Instructor of the Toronto Karate Daigaku, Ontario Karate College, and IKD Ontario.
After training in Japan in the early 1970s, he continued his training, until recently, under the legendary Master Teruyuki Okazaki, 10th Dan for 40 years. He also trained under Masters: Yutaka Yaguchi, 9th Dan, Hidetaka Nishiyama, 10th Dan, the great Masatoshi Nakayama, 10th Dan, and Hirokazu Kanazawa, 10th Dan – all JKA legends, as well as almost every famous Japanese Karate Masters of the 1950 to 1970s.
He was the first Canadian Guyanese graduate of the JKA/ISKF Instructor Training Institute, and a 1978 Pan American kata champion. Master Woon-A-Tai is a recipient of the French Guiana National Medal of Service for over 25 years of karate service in that country. In 2005, he was inducted in the ISKF Canada Hall of Honour. In 2009, he received the Mayor of Georgetown's Award for his lifetime of service to the youth of Guyana. He produced two DVDs; Eclipse of Life (1997), and Soul of Kata (2000).
A dedicated teacher,
he has produced regional, national, and Pan American champions, as well as world karate champions, all of whom have outstanding tournament records. He hosted the prestigious 2008 ISKF World Shoto Cup in Toronto, and in 2010, the 11th ISKF Pan American Karate Championships in Guyana. This event was attended by His Excellency President Bharrat Jagdeo and was co-sponsored by the Guyana Government. At the same event, His Honour, the Mayor of Georgetown, Hamilton Green presented Master Okazaki with the 'Key to the City'.
Master Woon-A-Tai received his first degree black belt in 1971 from the JKA in Tokyo, and his eighth degree black belt from Masters Okazaki and Yaguchi. He also received his A class Instructor, A class Examiner, and A class Judge licences at the same time. In turn, he has produced thousands of black belt students ranging from first to seventh dan as well as several international instructors, examiners and judges.
In 2011, he received his greatest honour from the government of Guyana. He was appointed a Member of the Order of Service of Guyana and awarded the Medal of Service for long and outstanding service as an exponent and trainer in martial arts at the national, regional and international levels by His Excellency, President Bharrat Jagdeo of Guyana.
His main goal continues to be of service to young people throughout the world by helping them find direction in life, helping to keep them off the drugs, and to break the cycle of crime and violence through the discipline of karate training. In October 2011, IKD received accreditation from the Guyana Ministry of Culture, Youth and Sport.
---
Maureen Woon-A-Tai
,
8
th Dan, is a Deputy Chief Instructor making her the first female traditional karate master in the world to hold such a position.
She attained this rank in June 2011 by Special Resolution of the International Board of Directors and Shihan
–
kai. She received her First Dan in 1974 and seventh dan in 2006 from Masters: Okazaki, Yaguchi, Mikami, Koyama, Takashina, and Ueki (observer). She teaches at the Headquarters dojo in Toronto and travels extensively throughout the IKD world promoting IKDtraining methods and to administer rank examina
tions.
A quiet and unassuming woman, Master Woon-A-Tai has a long anddistinguished tournament career. She placed sixth in the world at the first International Amateur Karate Federation (IAKF) World Championships in Los Angeles in1975; second in kata at the 1982 Canadian Nationals, persevered, and finally became a World Champion at age 54, capturing gold and silver medals at the 2008 ISKF World Shoto Cup. She followed this up in 2010 by winning another gold medal at the 11th ISKF Pan Am Championships held in Guyana.
Shihan Woon-A-Tai is married to Frank Woon-A-Tai since 1974 and has four grandchildren. She recently retired as a Royal Bank of Canada officer after 30 years' service. During her tenure at RBC she successfully completed several bank management courses. As well, she completed a course at the University of Toronto in Japanese language and has visited Japan on many occasions for training and tournaments. She brings to the IKD a wealth of experience.
Like her husband, she has trained with almost every famous Japanese and non-Japanese Karate Instructors the JKA has produced since the 1950s. As a deputy chief Instructor, she sits on the IKD Shihan-kai with IKD AAA credentials, some of which she obtained from the JKA and ISKF.
---
Dr. Wesley Dexter Shim, 8th Dan,
M.B., B.S., DLO, FRCS, was born in Trinidad and Tobago in 1952. He was educated at the University of The West Indies (UWI), The Royal College of Surgeons in Edinburgh, and The Royal College of Surgeons in England. Dr. Shim is Associate Lecturer at the UWI Medical School and heads the Department of Otolaryngology and Ophthalmology at Port-of-Spain General Hospital.
He is Chief Instructor of Trinidad and Tobago and began training in 1968 at St. Mary's College. He continued training under Sensei Woon-A-Tai while perusing his medical degree at UWI Jamaica and received his First Dan from Master Okazaki in 1976 and his seventh Dan in 2006.
Dr. Shim moved to Barbados in 1980 and contributed to the standard of karate there. During 1980 and 1982 he and his wife Frieda, visited Japan and trained under a number of world-renowned masters that included Shoji, Asai, Tanaka, Osaka, and Yahara.
Dr. Shim continued with his medical specialist studies that took him to England in 1983. There he had the opportunity to train under Master Enoeda. He represented Enoeda's dojo and won medals on two occasions. He has also won several national and Caribbean championships. Dr. Shim is the originator of the Caribbean Karate College, a revolutionary new idea for including karate in the educational system. He elaborates on the rationale of such bold and pioneering steps:
There is clearly a need in the society to help curb the violence among young people and to offer people who might not have full academic qualification, but possess the necessary skill, the opportunity to obtain a viable way of earning a living. In addition to this, for the first time, karate has been included in the Caribbean Examination Counsel Physical Education syllabus. We see karate with its maxims of respect and discipline as an important vehicle by which we can help young people find direction. It builds self-esteem and gives an ethic by which a young person can live. As a result there is a need to train Instructors properly to carry out the task of imparting the correct principles by which a person can practice this art…It is also designed to cover the syllabus to be taught for the CXC program and in this way provide a cadre of Instructors who could adequately teach the practical aspect of the CXC martial arts syllabus."
---
Chairman & Chief Instructor of IKD-Australia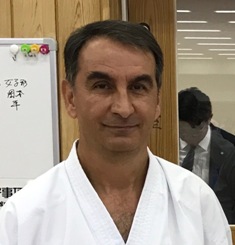 Sensei Hamid commenced karate training in 1968 at a Dojo run by the army in Shiraz, Iran. In 1974 he obtained
his shodan rank for the first time. In 2005 after moving to Australia and having put karate on hold for a number of years, grading to shodan rank again with JKR in 2007 under Sensei Kiyoshi Yamazaki, 8th Dan.
In 2009 after meeting Kanaya sensei he decided to open his own dojo under JKS after recommendation from Kanaya Sensei. In 2009 Sensei Hamid established his first karate club (JKS) in Gympie, QLD and bought JKS to the Australian shore for the first time ever. Later he founder the branches of JKS in Maroochydore and Sydney, sensei Hamid also ran 7 successful International seminars during his time with JKS. Sensei Hamid trained with Kagawa Shihan throughout his time with JKS.
In April 2017 sensei Hamid changed affiliation to International Karate Daigaku (IKD). Sensei Hamid currently holds a 4th dan black belt ranking (Yondan). His Dojo is internationally recognised by the Australian Karate federation (AKF) and the World Karate Federation (WKF).
Throughout his teaching career, Sensei Hamid had trained many state, and national team representatives. He has proudly witnessed his students excel in life with confidence and humility gained, following years of disciplined training.
Sensei Hamid is a passionate karate practitioner (Karate-ka) and has trained under some of the worlds greatest Karate Masters in Iran growing up.
"the biggest attractions for me when I started to know about karate were:"
Great  Shahram Massumi Sensei. He was the winner of the 1976 European Karate Championship.
Mohammad Bahrami Sensei
Persian hero, Mohammad Ali Sanatkaran Sensei, the Olympic and World Grand Champion of wrestling, he studied karate in Japan with Nakayama Masatoshi Sensei and Takahashi Yoshimasa sensei, afterwards he became a Karate instructor.
I had the pleasure of meeting Grand Master Abe Sensei when he came to Iran for the first time in 1975. He later stayed for two years from 1977 to 1979. Abe Sensei continued to come over to teach courses until the late eighties.
"These were great training opportunities for me. I had the privilege of being surrounded by these great karate masters and to have them as my idols growing up."
"When I was young I liked to watch a Bruce Lee films and the actor's power and self confidence impressed me so much that I decided to learn martial arts, like most young men at this time."