Join the IKD-Australia
You are invited to obtain membership with our International Karate Daigaku Australia (IKD-Australia) and receive expert karate training. We are happy to assist you with the affiliation process and send you the necessary documentation and information.
If you have any questions at all please don't hesitate to contact us. Click here
Introduction
The International Karate Daigaku Australia (IKD-Australia) is directly affiliated with the International Karate Daigaku. The International Karate Daigaku Australia
(IKD-Australia) was established in April 2017 by Hamid Mostofizadeh.
Organisation
Hamid Mostofizadeh is Chairman and Chief Instructor of International Karate Daigaku Australia
(IKD-Australia). He is supported and advised by the committee, made up of representatives from Australia.
The aims of IKD-Australia are:
– To teach traditional karate.
– To allow access to the best instruction and competition.
– To have all dan grades registered with the IKD headquarters.
– To allow members to qualify as IKD instructors, examiners and referees.
– To help students and instructors achieve their goals within karate.
– To maintain and develop the connection with IKD headquarters.
– To prevent racial, religious, sexual or political discrimination among
– To communicate or affiliate with or enter into relationships with other organisations,
    associations, bodies and societies whether in Australia or outside Australia in such a
    way as to further develop the interests of karate.
National and International Technical Seminars
We plan to organise our first seminar at the end of 2018.
We will hold technical seminars with visiting technical directors from IKD headquarters. These seminars are designed to give dojo students the opportunity to experience karate of international standard at a reduced price. The seminars are always popular and well subscribed.
 Conduct by – International Karate Daigaku Australia Branch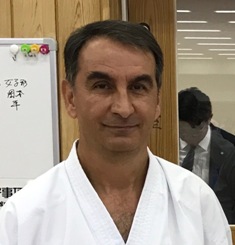 Hamid Mostofizadeh, 4th Dan,
Chairman and chief instructor of IKD Australia
Hamid trained in Iran, Germany & Australia.
– Judge C, Instructor C & Examiner C license
–  NCAS Silver Coach Certificate for AKF Members
Hamid also holds accreditation as an Active After School Care and Community Coach with the Australian Government.
He is a Blue Card holder for child related  employment.
He holds an up to date First Aid certificate (Australian government).